And you may ask yourself, "Well… how did I get here?"

Once in a Lifetime (1980) – Talking Heads
In this initial state I want to set the timeline from the first performance I participated in, up to the first phase of my doctoral research.
---
Impact Session
Impact Session | October 2006, I told Peter Jacquemyn – double base player, sculptor, colleague and research fellow – that I was experimenting with realtime generative video. "Why don't you take this on stage instead of fooling around?" he said. Peter organised a concert series called Impact Session at that time, a month later I did a first improvisation performance with tuba player Jan Pillaert – also a research fellow – and German tuba player Carl Ludwig Hübsch.
Just like that, no rehearsal, just play. Sometimes it can be that simple.
Impact Session setup and approach
My setup and approach was quite simple. I used the software Moudul8, which was at that time an innovative, very stable and flexible environment to work in. All parameters which I intended to manipulate were mapped to a BCF2000 MIDI controller. Also the ability of using the sound of the performers as an input to manipulate the generated visuals was build into the software and extensively used.
In this first performance, it didn't even cross my mind to get away from the computer. Steady as a rock behind my instrument.
Little did I know that this would be the start of an artistic encounter, on and off stage. To be honest, it has only just begun.
---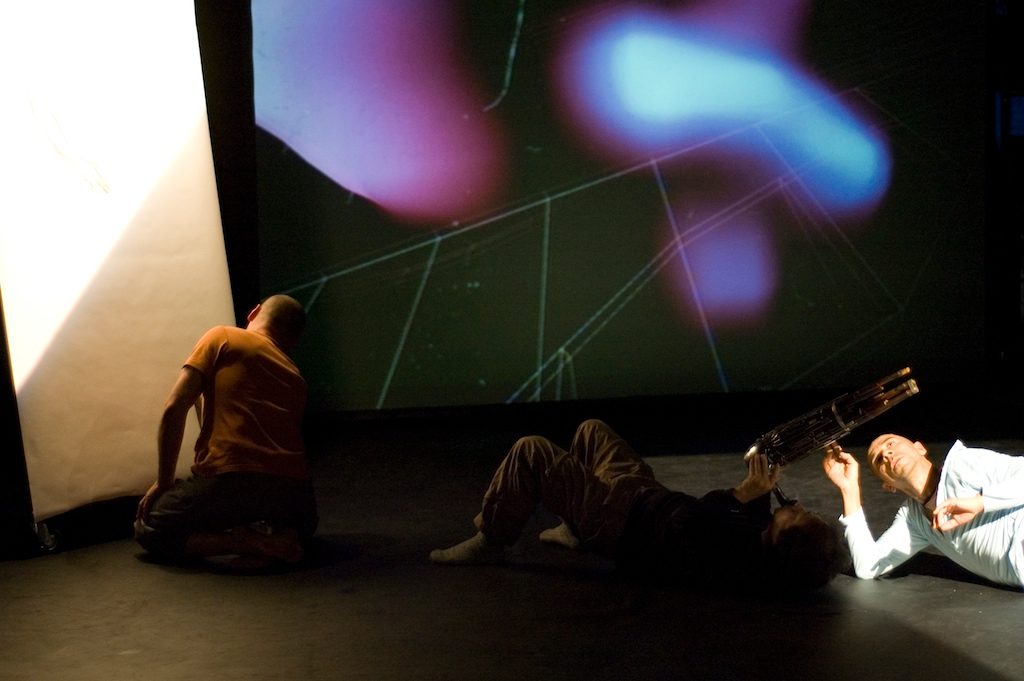 Sichtlaut
Sichtlaut | September 2008, my first time in Wuppertal (DE) and first encounter with Geraldo Si, a former Pina Bausch dancer who initiated the Sichtlaut performance series.
Fundamental to the collaboration with the performers in Sichtlaut is the improvisational approach, the equality of art forms and the transfer of each performer's attitude into a unique cross-disciplinary experience, adopting each others strategy.

Peter Jacquemyn
Up to now, this is still an essential element of what we do.
In the days prior to a Sichtlaut performance we had the privilege to play and live together for a few days. Through contact improvisation exercises and improvisation sessions we got used to each others presence, attitude and instrument. In this approach there's just one restriction, nothing we encountered in these sessions would be repeated on stage. The performance is never a collage of elements that worked in previous encounters. A method that you often see in contemporary dance, where improvisations sessions are filmed and the performance is a reenactment of the video edit.
With Sichtlaut, you take the experience of all the previous encounters with you and transform this continues dialogue with other performers into a cross-disciplinary performance.
The Sichtlaut performances could range from three performers up to seven, depending on location and concept.
Sichtlaut setup and approach
My setup and approach evolved drastically throughout the different Sichtlaut performances I participated in. It was a time of discovering new possibilities and while testing them out, other possibilities emerged. I was scratching the surface of what could be done in this vast array of possibilities, without digging deep and finding the true potential.
Collaboration with other visual artists
I started to work together with visual artist Sigrid Tanghe, she created live paintings during improvisation performances. For this, she uses a setup with a camera connected to a projector that films the workspace she alters. It was an interesting contrast, the very physical and tactile live painting of Sigrid and the almost detached abstract and generative videos I created.
During performances we were constantly looking for the similarities and differences in our visual language and ways to combine these.
Putting our images next to or over each other while using two projectors, sharing the same projector and mixing our images with a videomixer, etc. An endless array of possibilities that were further explored in the following projects.
Introducing the camera as a controller
It soon became clear to me that a computer isn't very direct. Not like the movement of a dancer, the sound of your voice or any other instrument you can pick up and start playing, the stroke of a paintbrush, etc. Those are tools that once you master them, are an extension of your thought. A computer is somewhat more time-consuming then that. Not only do you have to build your instrument through programming the software up to a point where you can visualise what you imagine almost instantly. A meticulous and particularly slow process. You also have to learn how to play this instrument and find interfaces that enable you to interact in a more intuitive way with both your instrument and the other performers.
The use of a DV camera connected to my laptop opened up a new array of possibilities for me.
The camera feed was used as a basis to generate abstract images within the software. The great advantage of this was that I had an instrument in my hands with which I could react very quickly to the unforeseeable in improvisation performances. A kind of directness I didn't manage to achieve up to now. Even more important, to get the most out of this I had to step away from the computer – my island – and interact with the other performers on stage. This was a very drastic change for me, I felt very safe on "my island". All of a sudden I decided that it was beneficial for my work that I would interact physically with the other performers. Although I felt very comfortable with the contact improvisations we did in the days prior to the performance, the physical presence on stage was unnatural to me. I was insecure on stage and constantly looking for ways to deal with this sensation. Although at that point, trying to avoid it or find a way around it was the best option.
Spaciality
In the first performances of Sichtlaut, we experimented with doubling the same output on several projection surfaces. The projectors were spread along the stage, using both front and retro projection were in different sizes. This enabled performers to interact with the projection by positioning themselves between the projector and the projection surface. By doing this they could become a projection surface and at the same time create shadows on the surface behind them.
When the Matrox TripleHead2Go became available – an external piece of hardware which enables you to connect up to three outputs to your computer – I discovered new horizons. Now I could create an immersive environment for the performers and for the audience. Video mapping wasn't a possibility yet, but with a good management of the graphic capabilities of my laptop I could create a canvas which stretched over three projectors.
… (to be completed)
---
2×2
2×2 | March 2012, first performance of the improvisation quartet 2×2 at crossroads festival Antwerp. Two musicians, Peter Jacquemyn on double base and Jan Pillaert on Tuba. Two visual artists, live painting by Sigrid Tanghe and generative video, yours truly.
The setup with two performers for each discipline was an interesting concept. This collective grew out of an appreciation for each others work, friendship and the urge to play and perform together on a more permanent basis. Especially the collaboration with Sigrid Tanghe gave me the opportunity to further develop my visual language the different elements in my setup that I only had briefly touched upon in the different Sichtlaut performances but never explored thoroughly.
During the improvisation sessions of our quartet, the two of us extended the search for similarities and differences in our visual language and explored these visual dialogues further in relation to the sound of the other two, who themselves were deeply engaged in creating a dialogue with distinct character voices. These encounters resulted in cross-disciplinary narratives, improvised series of related events, experiences we shared with our audience during performances.
It was during these performances that it became very clear to me that there was a big difference in how the audience perceived the tactility and directness of the live paintings by Sigrid Tanghe and the abstract visual narratives I generated within the software. It was difficult for most spectators to relate to what I as a digital performer was doing on stage.
You see someone standing tucked away behind the screen of a laptop and apparently he's busy doing something, he might as well be checking his email. Or is there a correlation between this and what's being projected during the performance?
It became a quest to overcome this frustration and try to demystify the digital performer.
2×2 setup and approach
… (to be completed)
---
WORP
WORP | Januari 2018, performance at Sound//Vision during the International Film Festival Rotterdam.
… (to be completed)
---
I'm still busy completing this page. please, come back for some further reading on the creation proces, performances and possible conclusions.