A ride? Hell, that's a good idea. Okay, let's go. Hey, let's go.

Dennis Hopper in "Blue Velvet" (1986), a film by David Lynch
Initially my research would be on visual poetry, with a probable output in the direction of kinetic typography. I would asses how different elements of poetry, text, dynamics, musicality and layout that we find in contemporary classical music and music improvisation could be visually translated into intangible carriers through kinetic typography. In my design practice, I would aim to develop a design research on visual poetry. The analysis and instrumentalization of the design process would then lead to a better understanding of my design practice within contemporary classical music and serve as a starting point for creating visual poetry in cross-disciplinary performances.
Those great intentions changed drastically in the first year of my research. Simultaneous with the start of my doctoral research, I created the video scenography for the theatre play "Monsieur Linh and his child" by the Belgian director Guy Cassiers, based on the novel by the French writer Philippe Claudel and performed by the immer impressive Koen De Sutter.
The video for this production was pure kinetic typography and had a similar function as the actor. All the characters apart from Mr. Linh, are 'represented' by the kinetic type which was projected on a dark gaze behind the actor. Mr. Linh would then interact with theses typographic characters in real time.
Not only was this a huge artistic endeavour and supposed to be a great start of my research. The book also dealt with the very topical theme of refugees, one of the great challenges currently confronting Europe. In addition to the subject matter, however, with this production the work process itself now had a European dimension. The production has been translated in five languages, it premiered in dutch and is translated and performed in French, Catalan, English and Spanish by a different actor in each European country.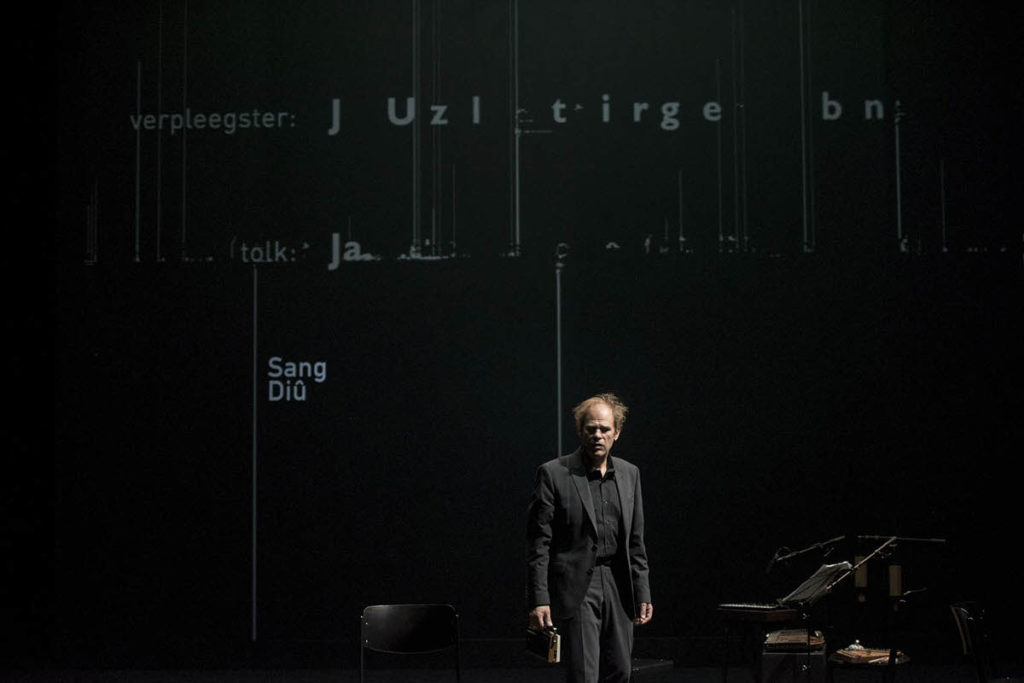 Once again, I designed the text of a great writer to be represented on stage, just like I did in a lot of literary and classical music productions the past few years. In this project I got involved in a very early stage and participated in a lot of the rehearsals, creating and adjusting my material on the fly.
While doing this, it became clear that I could never experience the same freedom as an actor who was working with the same text as I did.
Yes, I can change the color of a word, put it in capitals or even change the typeface. But it is very difficult to shift emotions, voice timbre or shift nuances by putting a little pause at a slightly different point in the performance.
At this point I decided I should take up a different role, be the performer, invest time in creating my visual language and how to bring this on stage.
Actively partake in the narrative that unfolds among performers during a performance.
Since 2006 I have been experimenting with realtime and generative video in cross-media performances, both in contemporary music and music improvisation. The creation of these abstract visual narratives started out of the frustration of having to wait several hours, even days for a video rendering to be completed. The impatience I had made me look for something more direct, something I could interact with.
It was clear that this would be the path to further explore. The creation of abstract visual narratives which I could interact with in relation to other performers, space and time is a logical step both in my research- and artistic practice.
I'm still busy completing this page. please, come back for some further reading on the creation proces, performances and possible conclusions.